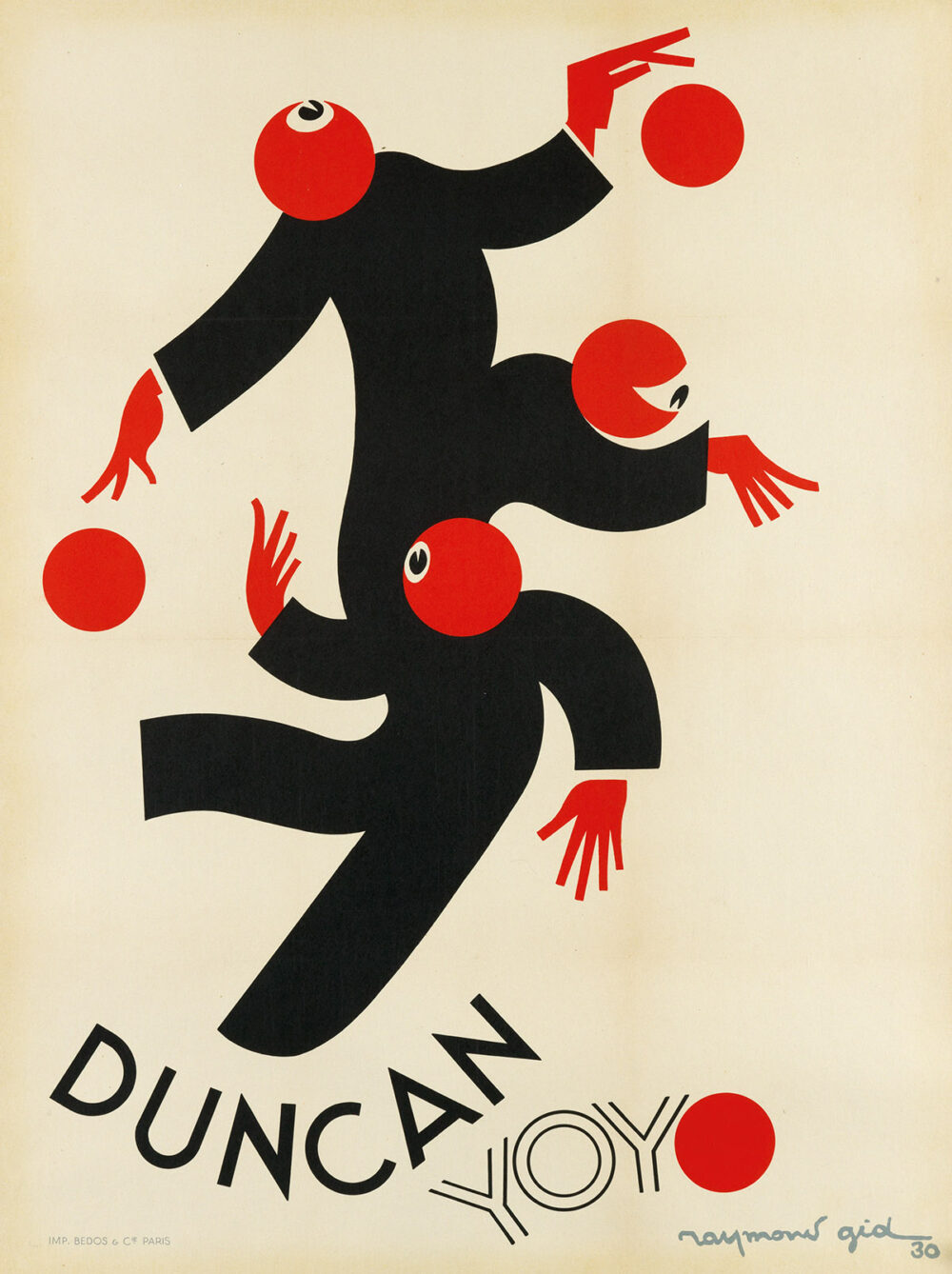 I have been on a bit of book binge over Christmas, getting around to reading some of my books about toys. My taste in toys is like my taste in many things, concentrated on the inter-war years. But I veer all over the place and I'm easily distracted by a nice toy of any period. This poster is not just a nice – but a fabulous – graphic image promoting a toy. It's for a yoyo, quite a hard toy to depict and one you might be surprised (I know I was) to see treated in such a modern way. A lithographed poster, it was designed by Raymond Gid (1905-2000) in 1930 and it seems quite a few copies have passed through online auction sites. Beyond the designer's name, some are credited with the printer's name too: Bedos & Cie, Paris who seem to have been poster printers for anyone and everyone of note.
Raymond Gid was a commercial artist, with a bent toward poster design and he usually designed the type that went with the visuals, too. He lived a good long life and seems to have been writing and designing for most of it. As for the yoyo, I delved a bit deeper in the internet box to find a Wiki page for Duncan yoyo's. They are still being made although the brand name is now owned by plastics company Flambeau. Apparently (and it must be true because the internet says it is) yoyo's are the world's second oldest toy, after dolls.
The word yoyo is from the Pilipino Tagalog language and means 'come, come' or 'return'. The Philippine connection is Pedro Flores who opened a yoyo factory in Santa Barbara in 1929 becoming the first mass producer of the toy. The next year businessman Donald F. Duncan (founder of another company called, delightfully: Good Humor Ice Cream) saw the potential and purchased Flores' business and the rights to the word 'yoyo.'
And it seems the yoyo, now being mass produced, took off in the 1930s. It was helped not a little by Donald Duncan's promotional activities on behalf of his toy: sending out teams to promote it and organising competitions. In fact, the first World YoYo Contest (which is still going strong) was held in London in 1932. It's hard to think of another such classy, and of its moment, toy poster as this. Undeniably aimed at the parents of some modernist child. Or some grown-up modernist buying themselves a yoyo to be seen as, well, hip to the toy. Gid's graphic has a feel of Fortunato Depero's work about it. But I still wonder why this poster, for an American toy, was commissioned; from a French graphic designer and printed in Paris in 1930?